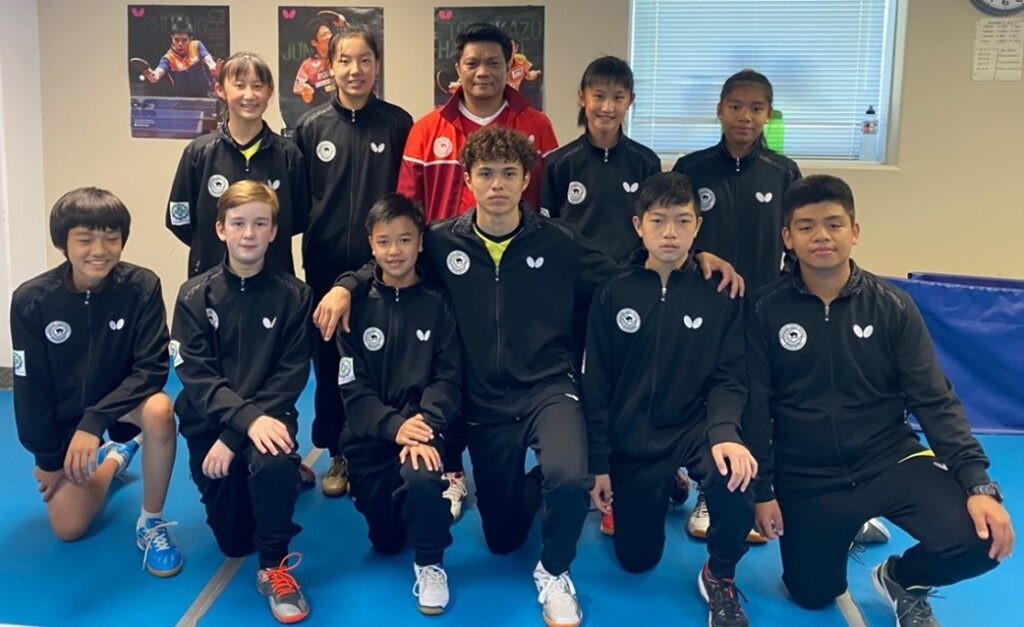 TEAM MANITOBA @ 2022 CANADIAN JUNIOR & SENIOR CHAMPIONSHIPS: Back Row (L-R) Alexus Lee, Grace Qi, Head Coach Arvin Tronco, Victoria Lee, Samantha Belches. Front Row (L-R) Ethan Ouyang, Didie Joyal, Owen Hu, Takeo Gagro, Ho Sum Chong, Charles Belches. Missing from photo Phuong Nguyen (Manager), Terry Zhang (Coach), Yi Fan Lu (Coach), Matthew Lehmann (Sr. Team), Danny Joyal & Joanne Zhang (Drivers & support).
---
The 2022 Canadian Junior and Senior Championships took place this past July 5th to July 10th at My Table Tennis Club in Mississauga, Ontario. The Manitoba Table Tennis Association sent 6 teams to participate for this year's Nationals: Boys and Girls U13 & U15 teams, Boys U19 team and Senior Men's team; we unfortunately could not field Girls U19 or a Senior Woman's team.
Our Senior Men's Team consisted of Matthew Lehmann and Yifan Lu who each contested the Singles and Doubles events. In singles, Matthew finished 7th overall while Yifan was knocked out in the round of 16. In Doubles play, they were knocked out by an Ontario team in the round of 16. Matthew also played in the mixed doubles event where he paired up with Ivy Bao of Alberta and were eliminated in the round of 8; they both played well for the first time teaming up, but we can't expect much since playing doubles is a different ball game. Chemistry is very important and it takes a lot of time to develop to click with one another during a real match.
Our Junior Team consisted of the following athletes:
Boys U19 – Takeo Gagro and Charles Belches. Lost Bronze medal match, 4th overall.
Boys U15 – Ho Sum Chong and Didie Joyal. Lost Bronze medal match, 4th overall. Charles lost in round of 16 in singles.
Boys U13 – Owen Hu and Ethan Ouyang. 5th place finish in team. Owen knocked out round of 32.
Girls U15 – Grace Qi and Samantha Belches. SILVER MEDAL IN TEAM. Alexus, Victoria and Grace all knocked out round of 8 and Samantha knocked out round of 16.
Girls U13 – Victoria Lee and Alexus Lee. SILVER MEDAL IN TEAM & Victoria SILVER in Singles and Alexus out round of 16.
Girls U19 singles – Grace knocked out round of 16.
I want to congratulate all of you for a job well done! The boy's team results were very good considering the strength of the other Provinces. Both the Girls U15 and U13 team went to the spotlight at the 2022 Canadian Championships Junior Team event Finals. Grace Qi and Samantha Belches won Silver in the Girls U15 Team event and Victoria Lee and Alexus Lee won Silver in the Girls U13 Team event. Victoria Lee also won Silver Medal in the Girls U13 Singles event while she also finished top 8 together with Grace Qi and Alexus Lee in the Girls U15 Singles event. We are too close and almost knocking on that door to snatch that gold medal but remember losing doesn't mean you failed…seeing you guys & gals perform at your best and giving everything you've got is what matters most and I couldn't ask for more but all I can say is…I'm so proud of what you guys accomplished this year at Nationals. Keep up the good work and we will come back stronger next year!
I would also like to take this opportunity to thank all our Coaches Terry Zhang, Phuong Nguyen, Yifan Lu and former Head Coach Milcho Uzunov who came back to Winnipeg from Bulgaria to help Matthew and the kids prepare. Thank you for all the help and great job everyone! Special thanks to Mr. Danny Joyal, Danny Lee and Joanne Zhang I appreciate all the effort for organizing our trip and planning our meal plans during our hectic schedules each day; really a big help for all our athletes to have a successful Nationals this year.
Lastly, I would like to thank our Sponsors Mr. Andreas Ingenfeld of the "Crusty Bun" for sponsoring our Coache's Uniform and also to Mrs. April Manzano of the "Prime Medical Services" for sponsoring our Athletes Uniform this year.
On behalf of the Manitoba Table Tennis Association thank you everyone and Congratulations to all our Athletes.
Event Result Link:
Tournamentsoftware.com – 2022 Canadian National Championships – Draws
Interview with Victoria, Alexus and Samantha.
Coach Tronco reporting.